Madame Janette
Cuisine(s):
French
,
International
Main Course:
$35.00 - $59.00
is:
Fine Dining
Outdoor Dining
Indoor Dining
Accepts:

Meals:
Dinner
Serves:

Ratings & more:
Good!
Free WiFi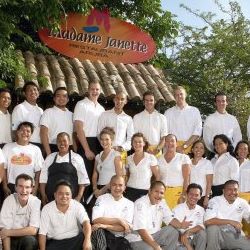 Ramon Helgers and Karsten Gesing founded Madame Janette April 2nd
1999. Their collaboration resulted into a place, which offers fine dining in a casual atmosphere.

Ramon is responsible for the exotic fruits, herbs and vegetables you will find in not only our dishes, but also in most supermarkets on Aruba. Karsten, a European Master Chef, trained in 'old school' traditions creates, with help from his knowledgeable international
staff, tasteful and creative dishes. Their combined worldwide experience
gives their dishes an original flavour with a touch of Caribbean in it. We call it the Madame Janette Experience! We hope that you will have a wonderful dining romance.
""
Feb 3, 2011 - posted by
Suzanne K
My experience with Madam Janette's was fabulous from the start! I made reservations online prior to my trip and they were confirmed. I let them know we were celebrating special birthdays in advance and they sang us happy birthday.

The food was fresh and local and cooked to perfection! There was plenty of variety from seafood to steak and the portions were large. The sides were delicious! The ambiance was very relaxing (could be romantic but my trip was with a friend!). I'd recommend sitting in the garden area for the outdoor dining experience.

I will definitely go back next time I vacation in Aruba!
""
Jan 29, 2011 - posted by
tr-Denmark
In general it was good. Prices were okay. Food was good. Waitress could have been more attentive. The live guitarist was very good.

My wife had the Surf&turf, I had Lamb Rack.
Lamb rack was excellent, close to perfection. Surf&turf was good but a bit bland, could hav been better seasoned. Side order was good, when it arrived. We had to get another waiter to get my wifes side order. Our waiter forgot it.

My wife had Apple strudel for dessert. I had Swiss chokolate mousse with caramel.

Apple strudel okay. Vanilla ice was super, the strudel okay.

My dessert was good, but to big. I rather would have it a bit more refined.
Other would disagree on the size of the portion, but in my opinion it was to big and needed refinement.

We had a very good Paulliac to the meat. Expensive, but worth every penny.
Enviroment/decor - a bit tacky IMHO.

All in all a good experience, we'll be back, but - I expected more. It might be a bit unfair, but after all the good reviews I expected more.
""
Jan 27, 2011 - posted by
CFW
The ambiance is very pleasant, especially the live guitarist whose performance made us feel mellow. The food, however, was disappointing. First, the flavor profiles were repetitious. The same sauce, probably Madame Janette's pepper sauce, was used in the sweet and sour, as a base for other sauces and tossed into the mayonnaise. Ditto for the white sauces which had a different base, probably Madame Janette's papaya sauce. Second, the ultimate sin was committed: the whipped cream on the desert was from a can, not freshly whipped. To top things off, the food was overly expensive. I would never go back.
""
Jan 14, 2011 - posted by
Millie
This was the first year I can say I was truly disappointed at Madame Janette and we have been there a minimum of 10 times. The portions which use to be extremely generous are not and the plate appeared empty by comparison. The side dishes were served lukewarm and when we asked our waiter to bring us hot ones, he returned with the same food at the same lukewarm temperature. Although everything tasted delicious, it still left us feeling that things were just not as they were in the past. I think there is better restaurants on the island.
""
Jan 6, 2011 - posted by
Susan
Once again, the meal was perfection. I had a great pineapple mojito-wow! The atmosphere is so relaxing. SO and I shared a salad-they are big enough for two with the house vinaigrette dressing. I also had the french onion soup-so yummy. SO had the tenderloin-cooked absolutely perfect. I had the surf/turf-tenderloin, shrimp, Caribbean lobster. It is amazing how they cook such a thick cut of meat so perfectly. I also had the au gratin potatoes as a side-those are to die for. I ate it ALL!! So did SO. Neither of us had room for dessert. The service is always spot on!

We will be going back on our trip next year!
""
Jan 6, 2011 - posted by
~Amy~®
Absolutely amazing dinner and service!
My husband had one of the specials for the night which was duck - very tender and great flavor. I asked for help from our waiter (Jorge) on something somewhat "light". He recommended the whole snapper and it was perfect. I was hesitant at first but he assured me that it was fully deboned (which it was) but still had the head on. It was the crispy tempura YellowTail Snapper with coconut rice, Asian vegetables, and pineapple salsa. I can't wait to go back and have the same entree again on our next trip.
Thank you, MJ's, for another fabulous dinner!

""
Jan 5, 2011 - posted by
Canadian Gal
We regularly go to Madame Jeanettes during our annual visit to Aruba. This year with all the rain it was a challenge for MJ as most of their tables are outside. I always ask not to be seated "inside" as it is far too hot but prefer the semi outside area at the front of the restaurant.
Our general feelings about MJ are that it is still a very good restaurant but it has become a little too impersonal. The food is good but not outstanding and the presentation is not in the same caliber as some of the other new restaurants on the island. We also felt a bit rushed.
I always get the almond grouper which wasn't quite as good as in previous years. I think having now gone to so many of the newer places this "old favourite" seems a bit stale in service, atmosphere and food presentation compared to the newer competition.
The apple strudel is wonderful. I still enjoyed our evening but sadly not as much as in past years.
""
Nov 30, 2010 - posted by
Nancy
11/12/10 Was my most recent visit to Madame Jeneattes. I have been there at least 6 times among several visits to Aruba. The dinner that evening with my sister was ABSOLUTELY WONDERFUL!! We had the Almond Grouper and another Grouper filet stuffed with shrimp and crab. I can't even put into words how AWESOME they each tasted...done to perfection! Presentation was beautiful and appealing! I have always visited Madame Janette and loved the food and attention to service, but this last visit topped them all! THANK YOU for a wonderful evening and Kudos to the chefs! :)
""
Nov 28, 2010 - posted by
Suzanne
I have been coming to Aruba for 10 years and going to Madame J's for 6 of those years. My family and I went to Madame J for our Thanksgiving dinner. We had a bottle of wine that was out of this world and the steak was amazing. My folks had the turkey dinner and the sides were excellent although the turkey was a little dry. I also had a spinich salad that was on special and it was fantastic as well. I would highly recommend visiting this location.Our waitress was nice but we felt that she had some difficulty understanding us.
""
Nov 22, 2010 - posted by
Jen
It saddens me to write such a poor review for Madame Janette. This was our third time to the island and we had yet to make it here. We never had time to fit it in, but after hearing friends and others on the island rave about it, we decided to give it a go this time. Unfortunately, we held them to a pretty high standard because of the places we had already been to that week (Amazonia, Screaming Eagle, Mirandi, Barefoot, Flying Fishbone)and all the reviews we read and heard. Our experience was awful from the time we were seated.

We had an 8:30 reservation, assuming that was plenty late. Every other restaurant we had been to that week around that time was pretty dead. Now we understood why--everyone was at Madame Janette! The place was PACKED!! We were seated at a two-top table under the covered area close to the kitchen because people were constantly running by our table which eliminated the chance to have any romantic feel to the experience. In addition, I found it very poor taste to allow people to smoke beneath the COVERED area as our neighbors were doing in chain-fashion. It was SO HOT (and smoky) that I almost passed out and had to go to the restroom where it was air conditioned to cool down and breathe fresh air and I had on a linen skirt and halter top! It wasn't like I was dressed for winter! The attendant in the restroom probably thought I was nuts when I stumbled through the door and plopped down on the bench wiping sweat off my neck and face. I was miserable!!
There was live music, which could have been nice except it was in the 'garden area' which looked MUCH cooler (temp-wise) and more quiet/romantic, but it was so loud in the restaurant part where we were seated, we couldn't even carry on a conversation with each other.
We decided to order a bottle of wine instead of a glass since we had a cab and didn't have to drive, which was a mistake because it just prolonged our visit as we sat there to finish it.
Our server was terrible..well, one of them. I think we had a total of 7 different servers the whole time. Whoever passed our table would either set something down or take something away--including the check, bill, credit card, etc..not personal at all!! Very disappointing! Our waitress (well the main one, anyways I think)took our wine order and then disappeared for like 15-20 minutes before coming back with it and then it was another 15 before she came back to take our order. She acted like we were more of a problem than her table. The bread was sub-par--hard dry stale tasting garlic bread and what was up with the plate of onions they give you??? Who eats raw onions as an appetizer????
I can't even remember what we ordered as an appetizer, so it must not have been that good. For dinner, my husband ordered the skirt steak and I got the seafood pasta. Nothing spectacular about either one of the dishes. Slightly higher caliber than Red Lobster other than the fact it was a ridiculous amount of food--like 6 servings of pasta to one dish. I tasted my husbands meal--the steak was tough and the potatoes were bland. At this point we just wanted to leave because it was so uncomfortably hot. We didn't even stay for dessert--anything to get us out of there quicker!
It wasn't too far from our hotel, but was stupid that it cost us $20 in cab fares in addition to our $150 bill for dinner! It is really off the beaten path, down a VERY DARK road and kind of hard to find.

I rate the toilets a 10 because they were air conditioned and offered me 2 minutes of a pleasant experience--kudos on that one Madam Janette!

I can imagine that once this place was probably a quaint little local gem, but has since grown past the capacity that any of the staff can handle and continue to offer great service, quality, and tasty food. I understand the concept of having 'something for everyone, every age' on the menu, but who wants to pay $30 for fried chicken or pork tenderloin? I can eat that crap back home! We never found 'american' food like that on any of the menus at the other places we ate that were better!! We were extremely disappointed in our experience and will not be returning. Thank god for Que Pasa for picking up the sad little pieces the next evening and blowing Madam Janette out of the water. This was definitely our worst dining experience yet on the island in 3 visits!!
Restaurant page views: 335,661