+297 Restaurant
Main Course:
$22.00 - $69.00
is:
Fine Dining
Outdoor Dining
Indoor Dining
Accepts:

+297 Restaurant
J.E. Irauzquin Blvd374
Aruba
Tel:
+(297) 587 8787
Opening Hours:
Restaurant Daily Open at 6:00 pm. - 12:00am. Closed at 1:00 am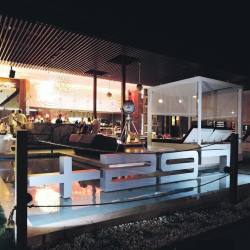 +297 is a unique and modern restaurant where you can experience a fusion of flavors and a gastronomic concept based on shared plates. Alongside our provocative craft cocktails, +297 is a dining experience not to be missed.

Elegance, impeccable design, and sensuality are elements that transform your visit into an unforgettable experience. We have various dining and lounging areas where you're sure to fulfill your gastronomic desires.
Showing reviews 1 - 2 of 2
Showing reviews 1 - 2 of 2
Restaurant page views: 10,358