Atardi (formerly Simply Fish)
Main Course:
$26.00 - $55.00
is:
Fine Dining
Outdoor Dining
Accepts:

Meals:
Dinner
Serves:

Ratings & more:
Excellent!
Opening Hours:
Daily from 6:15 pm - 10:00 pm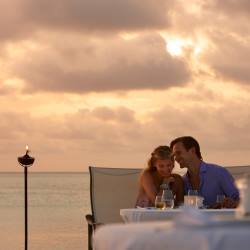 Aruba Marriott's beachfront restaurant, Atardi (formerly Simply Fish), is the best kept secret on the island. It is the perfect setting for a romantic dinner, a place where you can be delighted by magnificent sunsets, exquisite meals under the fluttering palm trees, and feel the warmth of the sand between your toes. Atardi allows you to sit back and connect with all your senses as you listen to the sound of the ocean. Although their specialty is seafood, Atardi's chefs take pride in knowing how to please meat lovers as well. The secret is out. You must come by.
Restaurant page views: 108,161