Quinta del Carmen
Cuisine(s):
International
Main Course:
$28.00 - $45.00
Meals:
Dinner
Serves:

Ratings & more:
Excellent!
Free WiFi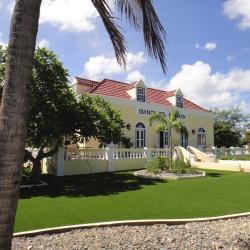 Monumental Courtyard Dining
"
Excellent Cuisine

"

Jul 8, 2015 - posted by

Dianne C.
My husband and I dined here on our last evening and what a fantastic way to do it. I started with the pumpkin soup and it was supreme! I then had the sea bass and my husband had the piña colada shrimp. Let's just say there wasn't much conversation going on as we both were too busy enjoying our entrees. This wasn't my first time dining there and it will not be my last. I cannot wait to my return to try something else that will be equally as appetizing. This a must place to dine!
"
Very good!

"

May 20, 2015 - posted by

Jack and Lori
As a fan of Barefoot we wanted to try their new restaurant. We were not disappointed. They have made the choices different from Barefoot but continue with the same high quality. We highly recommend it.
"
Superb gourmet adventure

"

Apr 26, 2015 - posted by

Robert
In this beautiful environment everything just seems to fit. Hospitality at its best and delicious food. We really enjoyed the garden with its nice breeze. The owners managed to create something really special and didn't copy their other success restaurant Barefoot. We enjoyed every dish but the skirt steak was a perfect 10!
"
Bad Experience

"

Apr 4, 2015 - posted by

Pedro
Horrible Food, Nice Waiter , Careless Servive. I had to selfservice thhe wine .
"
new neighbor

"

Mar 15, 2015 - posted by

Berend
Last year we were surprised to sea the building opposite our house being renovated. Soon we found out that it was going to be changed into a restaurant. Although there was no advertising it opened "secretly" just before christmas. Now, march 2015, we have been there some 5 times with the family, or with friends during there Aruban vacation. Overtime we were surprised by the atmosphere and the friendly staff.
The setting is great and just the way we like it.
The food is very good, the menu has entrees for every taste. We have been trying different starters and entrees and all of them were good!
So we are happy with Quinta del Carmen next door and we will certainly visit them frequently!
"
Dont Miss it!

"

Mar 3, 2015 - posted by

JC4Ever
After hearing the owners of Barefoot restaurant opened a new place we had to give it a try,and it was well worth it.
To start out Quinta del Carmen is in an absolutely beautiful setting. The home has been refurbished and it's absolutely beautiful with great outdoor courtyard seating in the rear. It has only been open two months at this point and had a very nice crowd.
The staff was fantastic, very helpful and attentive, even with our group of eight.
And in terms of the food there was not one complaint amongst us. Starting with appetizers, grandma's chicken soup and the pumpkin soup were both delicious. In addition the watermelon tomato and feta salad was huge and properly dressed, as was the goat cheese and potato salad. In terms of entrées the Sea Bass, grandma's special steak marinated 24 hours in wine, and the pork with brie cheese were all hits. Half of our entrées had been brought to the table when we heard a big crash in the kitchen. Apparently the remainder of our dishes had fallen by accident. The staff came out in an effort to take what has already been placed on the table away so all the food could be served hot and at the same time. This was a very appropriate response and nice gesture but we kept what had already come out and the rest was delivered within 10 minutes.
Overall a very good meal and we will definitely be back next year!
"
The best new Restaurant on the Island!

"

Feb 7, 2015 - posted by

Elaine
This restaurant is wonderful! It's a beautiful setting, a 100 year year old Aruban mansion that's totally refurbished. The meal was perfect from
start to finish including the dessert. A must for anyone visiting Aruba.
"
Great place, great food

"

Jan 31, 2015 - posted by

Tom Foley
We have been in Aruba for many years and the restaurant is above all other on the island for atmosphere, the owners vision is spot on. The food was great both the fish and Dutch recipes. For only being open for 6 weeks they projected confidence and I am sure they will improve as time goes on, the 6 of us were completely satisfied with our dining experience. Thank you for a great night and good luck.
"
New years day

"

Jan 3, 2015 - posted by

Glenn
Dinner for 7 on new years day . Place is nice and quiet inside with a mini madam janette feel . Food very good , service excellent
"
Keeping our fingers crossed!

"

Dec 26, 2014 - posted by

Jamie
Had the opportunity to eat at this new restaurant before the busy Xmas week.
We were very excited to try it, and when we arrived we couldn't believe this place existed! We have been coming to Aruba for 15 years and the building is absolutely stunning! The owners have out done themselves in decorating and grounds keeping and ambience! We were greeted upon our arrival and when we asked a few questions about the building we were given the "grand tour", we were very excited to be there and it is a fascinating story.
When we sat down my husband asked what was recommended, the waiter told us "the dessert". We should have either guessed that was not a good way to start or just get up and leave. We are all seafood lovers so when we asked the waiter if the fish was fresh and caught locally, he replied no, and is frozen. We were right than disappointed. But ..still we ordered three seafood dishes, and one grandmas Dutch beef stew. Our friend who ordered the stew said it was very good. Unfortunately the three seafood dinners were very bland and just ok. Here's hoping the owners work out the "kinks" and can become successful, because the place is so beautiful. My suggestion, is give it more time and more reviews.
Restaurant page views: 34,092