Sawasdee Thai Restaurant
Cuisine(s):
International
,
Thai
Main Course:
$16.00 - $28.00
is:
Budget Dining
Indoor Dining
Accepts:

Meals:
Dinner, Take Out
Serves:
Vegetarian
Ratings & more:
Excellent!
Sawasdee Thai Restaurant
Palmbeach186 B
Aruba
Tel:
+(297) - 586 8071
Opening Hours:
Daily: 17:00 - 22:30
Closed on Sunday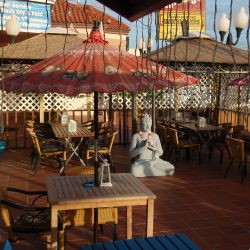 SAWASDEE(Welcome) to one of the worlds great cuisines. Thai food combines the best of several eastern cuisines: the oriental bite of Szechuan Chinese, the tropical flavour of malaysia, the creamy coconut sauces of southern India and the aromatic spices of arabian food. Thai food is very tasty, and our Thai cooks strike a perfect balance between sweet, sour, spicy, bitter and salty.

Our menu includes: beef, chicken, pork, steak, shrimp, fish, squid, noodles, fried rice, curries and a large selections of fresh vegtables. And for all vegetarians we have tofu, and mock chicken.
Restaurant page views: 86,094