Tony Romas
Meals:

Serves:

Ratings & more:

Tony Romas
J.E. Irausquin Blvd. 230 / Adriaann Lacle Blv
Aruba
Tel:
+(279) 586 7427
Opening Hours:
Mon - Sun: 12 p.m. - 11 p.m.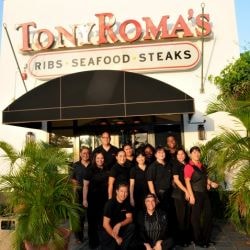 MANY RESTAURANTS claim to have the best ribs in the land, but only Tony Roma's world famous ribs continue to rack up taste awards all over the world. Great ribs put Tony Roma's on the map, but our guests enjoy an array of flame-grilled favorites including juicy steaks, signature seafood, and tender, grilled chicken.
Restaurant page views: 47,360