Azia Restaurant & Lounge
Cuisine(s):
Asian
,
Chinese
,
Indonesian
,
Japanese
Main Course:
$18.00 - $30.00
is:
Casual Dining
Outdoor Dining
Indoor Dining
Accepts:

Meals:
Dinner
Serves:
Vegetarian
Gluten Free
Ratings & more:

Azia Restaurant & Lounge
(across from Hilton)
J.E. Irausquin Blvd.348
Aruba
Tel:
+ (297) 586 0088
Opening Hours:
Sunday - Thursday: 6:00PM - 1:00AM
Fridays and Saturday: 6:00PM - 3:00AM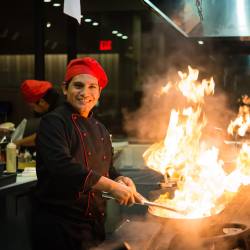 At Azia Restaurant & Lounge we believe that every occasion deserves exquisite food. Therefore, all of our dishes are authentic and freshly prepared by our in-house Chef. The menu is inspired by Asian traditional recipes from China, India, Indonesia, Korea and Japan. We offer tapas style portions so you can try multiple menu items and we serve gluten-free and vegetarian dishes, too.
Restaurant page views: 3,596