Azia Restaurant & Lounge
Cuisine(s):
Asian
,
Chinese
,
Indonesian
,
Japanese
Main Course:
$18.00 - $30.00
is:
Casual Dining
Outdoor Dining
Indoor Dining
Accepts:

Meals:
Dinner
Serves:
Vegetarian
Gluten Free
Ratings & more:

Azia Restaurant & Lounge
(across from Hilton)
J.E. Irausquin Blvd.348
Aruba
Tel:
+ (297) 586 0088
Opening Hours:
Sunday - Thursday: 5:00PM - 11:00PM
Fridays and Saturday: 5:00PM - 12:00AM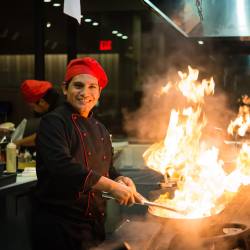 Exhilarating to the eyes and tastebuds alike, Azia Restaurant & Lounge offers bright flavors of the Far East in a surreal atmosphere that marries the serenity of Asia with the flamboyance of the Caribbean.
Ornate asian decor and zen details open the senses into setting the stage for pan-Asian fare inspired by multiple traditions that transcends into something delicious for just about everyone.
Menu features dim sum, sushi, soups, meat & seafood and favorite house specialties that pair delightfully with specialty cocktails and an international wine selection guaranteed to suit any celebration.

Azia's stylish bar, Aruba's longest bar, offers a wide selection of wines, classic and customized cocktails. Ask for our signature SangrAzia cocktail. And make sure to meet our famous Buddha, shipped from Indonesia, covered in gold leaf in Colombia and now shining in Aruba!
Showing reviews 1 - 1 of 1
Showing reviews 1 - 1 of 1
Restaurant page views: 10,297