Barefoot Restaurant
Cuisine(s):
Caribbean
,
International
,
Seafood
Main Course:
$20.00 - $45.00
is:
Fine Dining
Romantic Dining
Outdoor Dining
Accepts:

Barefoot Restaurant
LG Smith Boulevard 1
Aruba
Tel:
+(297) - 5889 824
Opening Hours:
Daily from 5 pm -10 pm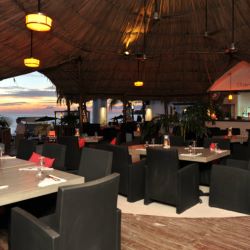 "Elegant dining in flipflops"

Located at the beach near the airport at the roundabout. Owner Gerco (chef) and Luc (Maitre d') have created a unique dining experience where you can enjoy the best Aruba has to offer: a great view of the ocean and sunset, experienced and friendly staff and high quality food.
Ideal for special occasions or just a wonderful night out!
Restaurant page views: 255,466