Bavaria German Restaurant
Main Course:
$8.00 - $28.00
is:
Casual Dining
Outdoor Dining
Indoor Dining
Accepts:

Meals:
Dinner, Take Out
Serves:
Vegetarian
Kidsmenu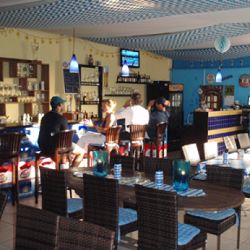 If you are looking for fresh cooked food at moderate prices or just want to enjoy a drink - BAVARIA Restaurant is the place for you !
Drink an ice cold beer and taste traditional German food in relaxing atmosphere at the beer garden
or inside the air conditioned restaurant.

Good food and friendly service is guaranteed !
"
Excellent !

"

Apr 3, 2016 - posted by

Barb barlow
We eat here atleast 2 to 3 times per trip to Aruba. The owner, Peter, is always friendly and makes us feel welcome. We highly recommend the food and beer !
"
The Best German Food! Must Visit!

"

Dec 10, 2015 - posted by

Jeff Greenhill
My wife and I have known Peter, the owner, a delightful man originally from Germany, for 7 years. we watched this restaurant birthed and grown into now one of the top 10 restaurants in Aruba (#2 in Palm Beach). For good reason-- Bavaria is a MUST visit for those who like German food (even for those who think they do not like German food). This year (2015), we once again visited this charming place and were rewarded with melt-in-your mouth Sauerbraten, delicious authentic "sweet and sour" German red cabbage, and, well, about the best spaetzel we have ever tasted. My wife told Peter that she had been eating spaetzel for over 40 years, and his is the best, lightest, most delightful spaetzel she has ever tasted. Peter is a consummate perfectionist, and that is very evident in all of his dishes. We also had Bavaria's DELIGHTFUL potato soup and cheese soup. In the past, I have had something like pork tenderloin medallions (I think he calls them pork cutlets), which were amazingly delicious, as well a a beef rouladen (he has a different name for it) that is, well, to die for! This restaurant is a MUST visit, even if you do not think you like German food. Peter offers various freshly-caught fish dishes, which are always expertly prepared and delicious. Whatever you order here will be prepared to perfection. Try their authentic German beers as a nice accompaniment. On a scale of 1 to 10, my wife and I give this place a solid 10! My wife says "12" on a scale of 1 to 10... LOL!

"
Fantastisch - A friendly treasure in the hear

"

Dec 5, 2015 - posted by

Jeff
What a wonderful surprise to visit Bavaria. Was in Aruba for Thanksgiving 2015 with my Mom who is German. It is not often she can have an authentic dishes from her homeland. That is EXACTLY what Bavaria offers. She raved about the menu options and the food was even better. The owner is charming and spent quite some time just talking with us about recipes and growing up in Germany. It was truly a wonderful evening and I hope you can experience the same. I HIGHLY recommend Bavaria...after all, there are only so many nights of Italian food you can eat while there. Go visit Germany, you will not be disappointed!
"
Amazing Food and even better service!

"

Sep 8, 2015 - posted by

Ryan
My wife and I were on our honeymoon and wanted to get off of the resort and try something different. We came across the Bavaria German Restaurant and the menu appealed to us because it was something totally different than the Caribbean cuisine and we figured since Aruba is part of the Netherlands, German food would probably still be authentic :) It is nestled in between a KFC and a Wendy's, but don't let that deter you from coming!
First the food. We got the pretzels for an appetizer that came with a Garlic dip. They were amazing! They were light and fluffy and were one of the best pretzels I have had. For our entrees, my wife got the Bratwurst and a side of cheese soup and I got the sausage sampler (it had 3 different types of sausage). Both were served w/ Mashed potatoes and sauerkraut. Both the brats and the other sausages were great and it was a generous portion. The real show stealer though was the cheese soup. We dipped everything in it, mainly because we are weird, but to our amazement, dipping your mashed potatoes in this soup will be one of the best decisions you will ever make!
Now the service. Everything about the service was great! There wasn't a lot of people in when we dined, but I don't think that would have mattered. The hostess (who may have been an owners wife?) was very sweet and always had a smile on her face. The managers (2 of them) came over a few different times to chat us up and make sure everything was to our liking. They genuinely wanted to make sure we had a good experience. And our server was very prompt with taking our order and bringing out our food.
Finally, the most important part of this review is the beer. They have about 65 different beers, mostly from Germany. Compared to what we pay here in the states for a pint of Miller lite, the .5 liter bottles of german beer was a steal!!!
I would HIGHLY recommend you check out this restaurant if you visit Aruba.
"
Awesome Food

"

Aug 23, 2015 - posted by

Pat
Saw the reviews for this on-line prior to going to Aruba. We live near Nashville, TN and there are NO German/Bavarian restaurants in our area. I grew up eating German food so when I found this I was so excited. We wanted to have the Sauerbraten but they sold out. Had the Jaegersnitzel instead and it was so tender and delicious. We went back a second time and the Sauerbraten and it was so worth the wait. Food here is terrific. Better than the German restaurant we frequented when we lived in NJ. Spaetzle was like my Grandmother used to make. Prices were incredible. Not fancy by any stretch of the imagination but who cares when the food is so good. Desserts were awesome too. Anyone who likes this type of food needs to go there.
"
Beers n Pretzels

"

Aug 22, 2015 - posted by

Ted
We were meeting friends here, and just ordered drinks and pretzels.
A broad selection of German and international beers. The pretzels were freshly baked and simply delicious!
They now have better chairs than the last time I was here. Have to go back soon for a complete meal :)
"
Great Value

"

Aug 7, 2015 - posted by

Chris S
My family of 4 visited this place on the 5th of August. The setting was simple but nice. The owner could not have been friendlier. The potato pancakes were really big and tasty - we like them with maybe just a little more onion. Three of us chose the Sauerbraten and enjoyed it. My daughter who is 19 enjoyed the Chicken Snitzel. The beers were great and Peter took the time to talk to me about my beer choices. The strudel and the black forest cake + vanilla ice cream were big hits.

It was the best value meal of the week so far!
"
Excellent food - hidden gem

"

Mar 26, 2015 - posted by

Jane
We were looking for a restaurant to eat at for our last night on the island so we decided to try something different, hence our visit to Bavaria German Restaurant. It is located next to Wendys in a small strip mall a very unassuming location. It is a place you may not give a second thought. You would be wrong. In my experience you sometimes find the best food in the most unassuming location and this is the case for this restaurant. The people who work there are very attentive and friendly. The beer list had over 40 beers. It was a daunting task to select a beer, but after tasting several, i was able to select a beer I liked. One of my companions ordered the special which was a pork knuckel served with sauerkraut and mashed potatos. The knuckel was HUGE! and extremely tender and flavorful. The smoked pork chops were delicious as well as the sauerbrauten. We will definitely return next year. This is a hidden gem in the most unlikely place.
"
Excellent food and service

"

Jan 30, 2015 - posted by

Steve
I went here with my wife and daughter twice in 2014.
Wonderful food and and excellent service, especially from Peter the owner.
Reasonable prices. Definitely, a hidden gem in Aruba.
"
A hidden gem

"

Dec 13, 2014 - posted by

Wendy and Marty
I found this place on line and suggested it to our friends of 27 years, They looked at me as though I had 2 heads, but decided to go with us. What a fabulous place. and a great host, the owner Peter.

We started with an appetizer of potato pancakes which were better than my grandmother made when I was a child. They were huge, and a great bargain at $10 for 5 giant pancakes.

We had 4 different dishes.(weiner schnitzel, pork cutlet, stuffed grooper, and pan fried grooper)

Each dish was better than the other, but the pork cutlet won the prize. Dessert was apple strudel or German chocolate cake, each delicious and homemade. I almost forget the homemade noodles and mashed potatoes on the side of the main dishes.

I asked Peter why more traffic didn't flow into his restaurant, and he said that his location next to Wendy's wasn't ideal.

Trust me, a person that doesn't bother to write reviews, this place is a must. Coming from New York City with very fancy and expensive restaurants where you pay for the atmosphere. Instead of wasting your money on over-rated places in Aruba, go here.


Restaurant page views: 93,468