Bugaloe Beach Bar & Grill
Cuisine(s):
American
,
Aruban
,
Caribbean
,
Dutch
,
Fastfood
,
International
,
Seafood
Main Course:
$7.00 - $24.00
is:
Casual Dining
Outdoor Dining
Accepts:

Meals:
Breakfast, Dinner, Lunch, Take Out
Serves:

Ratings & more:
Excellent!
Free WiFi
Opening Hours:
Opening Hours: 07.30am - 12pm

Live Band: Tue, Fri & Sun 7-10pm
Salsa Workshop: Wed 8:30-9:30pm
Karaoke: Sat 8:30-11:30pm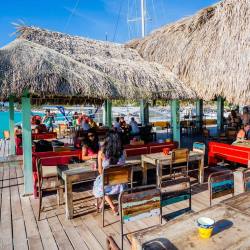 Dinner, Drinks, Dancing and Chilling? Yes, it is all here. Start your day off right and enjoy breakfast with a view or walk in for a casual lunch in between the adventures on the beach. Bugaloe is perfectly located on De Palm Pier between the Hilton Resort and RIU Palace Hotel.

Enjoy the 360 degree sunset views from the bar while 3 nights a week the best live bands of the islands guarantee to make your hips move! Come in for an amazing cocktail, and savor those Bugaloe Fries, your perfect evening is just a few steps away.

Dance the Salsa on Wednesday, Sing-a-long on Karaoke Saturday or go crazy on Crazy Fish Monday! Not to mention the Bugaloe Entertainers who sing their heart out every day during Happy Hour between 5pm till 6pm and 10pm till 11pm. Every night is a good night here.
Restaurant page views: 73,475