Daniel's Steak & Chop
Main Course:
$22.50 - $55.00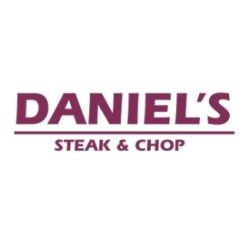 with certified angus beef and friendly service
"
Worst steak ever

"

Jun 26, 2023 - posted by

Dave mcaleese
I was there in June 2023 I had a party of 8 we all ordered appetizers and drinks the main meal I have been going to aruba for 18 years I go 2 a year and loyal to Giannis group who owns the other restaurants and daniels I would like to say the server Edwin is a great guy and server there lucky to have him well when we all ordered Filet mignon 2 of the dishes had to go back 3 times the meat was not even cooked and when the manager came over the second time the steaks came out and we told him there still not cooked he looked pissed off I spent 850 there for food and I would never recommend this place if you want steak there are so many other restaurants to get steak so beware they do not know how to cook steak stay way
"
Below average! Very disappointed!

"

Feb 21, 2023 - posted by

R.G.
I would leave zero stars if I could. The food is mediocre for the price and to make it even worse it is not even close to authentic steak restaurant. You should not call yourself a high quality steak house, its way below average. The vibe, the service, and food feels ridiculously whitewashed compared to the very good experience at Papillon,Ruths and Bohemian .
First of all they had no lamb available from the menu but then the same item was surprisingly included in the special item which force you to order the special item where lamb is included and is bit more expensiver. The smashed potato was disgusting! Nothing and nothing was tasty at all! Then they forgot to bring us another glass of wine. Last but not least, they calculated a dish which wasn't served at all in the bill.
"
Previous Daniels lover

"

Nov 12, 2021 - posted by

Louanne
Been going to Daniels for many years. Love the restaurant and Mary and Victor best bartenders. The staff is great and always happy to see us a couple times a year. Being there for over a month in January let's us enjoy the food and staff numerous time. We were there in September of this year and were very disappointed with some changes. First a new general manager who has made some changes. I know it's hard to fill the old general managers shoes, but he was good. The biggest mistake was no more Johnny cakes. A all time favorite!!!!!! it's amazing how many people are upset that the new GM took Johnny cakes off.
no matter who you talk to they are not happy about this change. Bread is okay for Ruth Chris but not for the Johnny cake lovers of Daniels. Hope someone reads this and changes back to the good stuff….. GM when you have a good thing going don't blow it! Hope by January you have realized Daniels customers loved what they had and no one wants a Ruth Chris with stale bread……
"
Not What We Had Hoped For

"

Dec 5, 2016 - posted by

Shizzle
We had heard it was the best steak on the island. Server told us medium rare would be red & bloody - it was not - it was medium. When you go to a "steakhouse" the meat should be prepared the way it's ordered. We asked if the sides were big enough to share and she told us they were really for one. Everyone ordered their own potato and they were huge! We could've shared. The stuffed potato was gigantic and gross looking. The Brussels sprouts and truffled mac n cheese were small. And hey don't have any round tables. The atmosphere sitting outside was nice. Servers were attentive but not warm - more robotic. We rated it 6-6.8. Their were 6 of us and we spent over $500 - it wasn't terrible but far from great.
"
The Best!!!!

"

Oct 11, 2016 - posted by

Kelly
My absolute favorite restaurant on the island!! Every single thing is so delicious.
One of the best steaks I've ever had along with amazing sides. Just went to Aruba for my 2nd time and it was a must to eat at Daniels twice. Can't wait to go back again!!! Thank for not only your amazing dishes but also your staff being so kind!!
"
Fabulous!

"

Oct 22, 2015 - posted by

Paula Charnitsky
Been going to Daniels for at least three years now I believe, my favorite. I don't remember who recommended it but it truly is fabulous. Prices are reasonable considering most nice restaurants. it certainly doesn't break the bank. Well worth the money for an excellent steak house. Loved the Caprese Salad too, you won't regret it a must try Daniels
"
So good, we went twice!

"

Oct 28, 2014 - posted by

Chris Triz
We went here twice. Beginning of the week and end of the week. That is normally against my rules but everyone (6 people) wanted to go back and I loved it the first time around so I went with the flow. Both times I had the truffle ribeye which was excellent. First visit, for app I had Oysters Rockefeller and a side truffle mashed potatoes with my steak, sooooo good and second visit, I had pork belly app and risotto side. Both times Chimichurri for my steak. For dessert, I wanted Key Lime Pie but they didn't have it either visit so me and hubs shared the guava cheesecake..very light and a perfect ending. They also had Branzini which my mom had first visit. My husband tasted it and had to have it on our second visit. Both said it was one of the best they've ever had. They have valet parking which was very convenient. After dinner we walked around the kiosks and picked up the car when ready to leave.

The service was excellent and the prices are so reasonable. This is our new steak place, for sure.


"
Superb steak

"

Jun 22, 2014 - posted by

Maddison
My wife and I ate here whilst on our honeymoon. The service was fantastic with the waiter explaining everything to us about the different steaks, because we like our steaks rare they came with the meal within 10mins and we both agreed it was one of the best steaks we have ever had - cooked to perfection. The side dishes were amazing as well. Overall a fantastic meal and would go back.
"
Loved it

"

Jun 15, 2014 - posted by

Judy from nj
We dined there twice during our visit in May. The filet mignon and the veal chop were right on. We also had the stuffed artichoke and oysters for our appetizers they were also top notch. We will certainly make it a point to visit at least once during our stay
"
Gianni's does it again!

"

Oct 29, 2013 - posted by

B. Solinas
On our last night in Aruba,my guest chose Daniel's Steak house. The staff was dressed in Halloween costumes and the staff was in a happy mood. The moijito was good. The three cheese risotto was excellent despite the waitress telling me twice how it was made when I asked twice, what were the three cheeses! The T-bone I ordered med-rare had grizzle and could not be easily chewed or cut with their steak knife. When I showed this to the waitress, she said it was because the steak was too rare and she would have it cooked more. It came back overdone and she admitted it was overdone but never suggested a new steak. My dish as well as my companion's dish had more fat and grizzle debris in it when taken away than when the entire steak was presented. As a consolation to our poor quality steaks, we were offered one dessert which I refused but it was presented anyway! A number of years ago we had a similar experience in Azzuro's, another of his properties. They refused to take back or take off the bill poorly presented, cooked and overly priced broccoli rabbe. The special pasta in the "wheel" was served with resentment in "mini stacks" since we were a party of eight at their regular price times four since it is made for two to share. When it is shared, two "stacks" are served not one and charged the full price.
The staff should be better trained (or maybe they are) on taking back food that is not up to standards. There are too many fine restaurants on Aruba to have to frequent one of the three Gianni's restaurants!!!!
Restaurant page views: 63,664