Dushi Bagels & Burgers
Main Course:
$18.00 - $28.00
is:
Casual Dining
Outdoor Dining
Accepts:

Meals:
Breakfast, Dinner, Lunch, Take Out
Serves:
Vegetarian
Ratings & more:
Excellent!
Opening Hours:
Daily 7:00AM - 11:00PM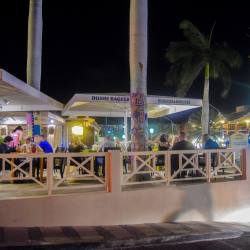 Dushi Bagels & Burgers is a family owned and operated restaurant. We moved from Argentina in the year 2000 following a dream: Open a successful food & beverage business, have quality family time and enjoy this small paradise island called Aruba. Back then, the family was much smaller, while today we proudly added a new generation!
Showing reviews 1 - 5 of 5
Showing reviews 1 - 5 of 5
Restaurant page views: 3,797