El Gaucho
Cuisine(s):
Argentinian
,
Steakhouse
Main Course:
$30.00 - $60.00
is:
Casual Dining
Indoor Dining
Accepts:

Meals:
Dinner, Lunch
Serves:

El Gaucho
Wilhelminastraat80
Aruba
Tel:
+(297) - 582 3677
Opening Hours:
Monday - Saturday 11:30am - 11:00pm
Sundays 5:00pm - 11:00pm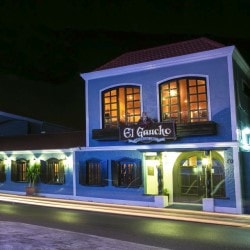 El Gaucho is located in an old townhouse at 80 Wilhelminastreet, it's the first Argentine restaurant to open it's doors in Aruba on February 17, 1977.

El Gaucho Restaurant serves a variety of tempting dishes, featuring quality Argentine steaks, tender and juicy, charcoal-grilled to perfection, such as the famous Gaucho steak, 16 oz sirloin, Pincho Torro Caliente (the biggest shishkebab ever served) T-bone steak, vealchop and more. While many restaurants are currently serving Churrasco steak, we must say that our version is the original and still the very best.
Restaurant page views: 204,746