Hadicurari Restaurant
Cuisine(s):
International
,
Seafood
Main Course:
$20.00 - $54.00
is:
Casual Dining
Outdoor Dining
Indoor Dining
Accepts:

Meals:
Breakfast, Dinner, Lunch
Serves:

Ratings & more:
Bravo!
Free WiFi
Hadicurari Restaurant
J. E. Irausquin Blvd.230
Aruba
Tel:
+(297) - 586 2288
Opening Hours:
Daily open: 8am till 11pm

Breakfast served from 8am till 11:30am
Lunch is served from 11am till 5pm
Dinner served between 5pm till 10pm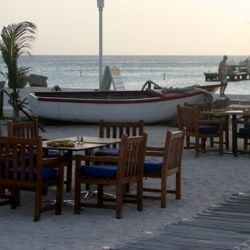 Come visit us for a wonderful dining experience. Let the freshest possible seafood caress your palate and let yourself be pampered by Hadicurari's excellent staff. At Hadicurari you may dine on the beach with your toes in the sand or on our open-air covered porch with a stunning ocean view that can't be beaten.
Restaurant page views: 66,475