Hadicurari Restaurant
Cuisine(s):
Aruban
,
Caribbean
,
Seafood
Main Course:
$20.00 - $40.00
is:
Casual Dining
Outdoor Dining
Indoor Dining
Accepts:

Meals:
Breakfast, Dinner, Lunch
Serves:

Ratings & more:
Bravo!
Free WiFi
Hadicurari Restaurant
J. E. Irausquin Blvd.230
Aruba
Tel:
+(297) - 586 2288
Opening Hours:
Daily open: 8am till 11pm

Breakfast served from 8am till 11:30am
Lunch is served from 11am till 5pm
Dinner served between 5pm till 10pm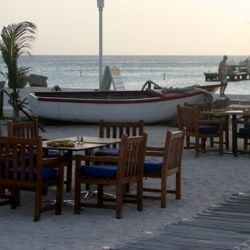 For a fresh approach to seafood, enjoy today's catch caught by Aruba's local fisherman by Hadicurari Pier daily. Enjoy indoor and outdoor casual dining in this beautifully shaded seaside Aruba restaurant which features an extensive menu of fresh caught seafoods and steaks and other splendid dishes all prepared with an international flair by our established chef and his team of culinary professionals.
Restaurant page views: 60,428