Madame Janette
Cuisine(s):
French
,
International
Main Course:
$35.00 - $59.00
is:
Fine Dining
Outdoor Dining
Indoor Dining
Accepts:

Meals:
Dinner
Serves:

Ratings & more:
Good!
Free WiFi
Madame Janette
Cunucu Abao37
Aruba
Tel:
+(297) 587 0184
Opening Hours:
Daily (Closed Sunday): 6pm - 10pm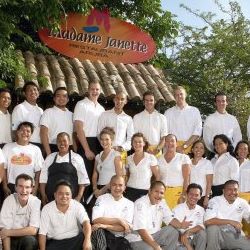 Ramon Helgers and Karsten Gesing founded Madame Janette April 2nd
1999. Their collaboration resulted into a place, which offers fine dining in a casual atmosphere.

Ramon is responsible for the exotic fruits, herbs and vegetables you will find in not only our dishes, but also in most supermarkets on Aruba. Karsten, a European Master Chef, trained in 'old school' traditions creates, with help from his knowledgeable international
staff, tasteful and creative dishes. Their combined worldwide experience
gives their dishes an original flavour with a touch of Caribbean in it. We call it the Madame Janette Experience! We hope that you will have a wonderful dining romance.
Restaurant page views: 467,265