Mira Solo Martini and Wine Bar
Cuisine(s):
International
Main Course:

is:
Casual Dining
Outdoor Dining
Accepts:

Meals:
Breakfast, Dinner, Lunch
Serves:

Ratings & more:

Opening Hours:
Sunrise Cafe, daily: 7:00 a.m. - 11:00 a.m.

Mira Solo Martini and Wine Bar:
Sunday - Thursday: 12:00 noon - 12:00 midnight
Friday - Saturday: 12:00 noon - 1:00 a.m.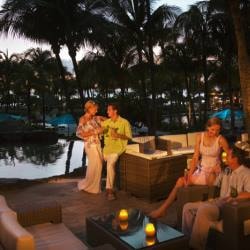 Perched atop cascading waterfalls and open to sun, stars and cooling breezes, discover the Radisson Aruba Resort & Casino's outdoor lounge, Mira Solo.

Mira Solo Sunrise Café, a bright new spot at the Radisson, is a place to enjoy morning cocktails and small breakfast bites.

Enjoy an array of specialty martinis, tropical cocktails and light appetizers. It's the place to start, end or spend the evening!

Sip and relax in the newly redesigned Mira Solo Martini and Wine bar. This modern chic space overlooking the cascading waterfalls is the perfect location to lounge and enjoy the evening air, listen to live entertainment or savor petite bites off the new menu.

Live entertainment featured each night.
Restaurant page views: 23,602