Moomba Beach Bar & Restaurant
Cuisine(s):
Caribbean
,
International
,
Seafood
,
Steakhouse
Main Course:
$19.00 - $40.00
is:
Casual Dining
Outdoor Dining
Accepts:

Meals:
Breakfast, Dinner, Lunch
Serves:

Ratings & more:
Good!
Free WiFi
Moomba Beach Bar & Restaurant
Irausquinblvd 230
Aruba
Tel:
+(297) - 5865 365
Opening Hours:
Daily: 8:00am - 11:00pm
Bar: 10am -1am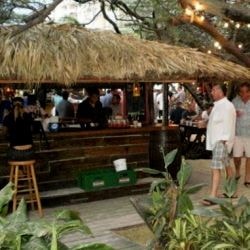 Moomba Beach offers a unique and exciting outdoor dining experience at the beach. A spectacular setting, encompassing a magnificent view of the Caribbean Sea. MooMba's is a casual, fun, outdoor restaurant housed under a huge palapa.
Restaurant page views: 117,197