The Dutch Pancakehouse
Cuisine(s):
Aruban
,
Dutch
,
International
Main Course:

is:
Budget Dining
Outdoor Dining
Indoor Dining
Accepts:

Meals:
Breakfast, Dinner, Lunch, Take Out
Serves:

Ratings & more:
Excellent!
The Dutch Pancakehouse
LG Smith Boulevard9
Aruba
Tel:
+(297) - 583 7180
Opening Hours:
Daily 8am - 9pm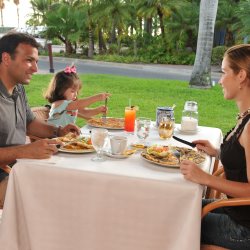 Since May 10th 2003 we are welcoming everyone at The Renaissance Marketplace 9, Between 8am and 9pm to taste the flavor and the ambiance of this great location.

After 10 years of experience in making "Dutch Pancakes" in our Dutch Pancake House in Aruba we get the people of Aruba, and of course the tourist who come to visit and enjoy this beautiful island, exciting for our famous Dutch pancakes, or what American call: the crêpes. They are handmade and baked with only fresh ingredients like we do on Aruba for 10 years by an old family recipe.

Restaurant page views: 57,391