Que Pasa? - Restaurant - Bar & Art Gallery
Cuisine(s):
International
,
Seafood
,
Steakhouse
Main Course:
$22.00 - $54.00
is:
Casual Dining
Indoor Dining
Accepts:

Meals:
Brunch, Dinner, Lunch, Take Out
Serves:
Vegetarian
Kidsmenu
Ratings & more:
Excellent!
Free WiFi
Que Pasa? - Restaurant - Bar & Art Gallery
Wilhelminastraat 18
Aruba
Tel:
+297 583 4888
Opening Hours:
Mon - Thu: from 4pm till 11pm
Fri: from 12pm till 11pm (incl lunch)
Sat & Sun: from 11am till 11pm (incl brunch)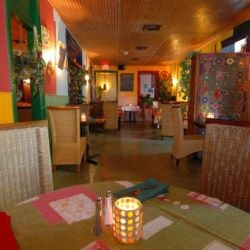 Que Pasa Restaurant & Winebar has been a culinary institute since 1992. The restaurant is located in a historical merchant house in downtown Oranjestad, and its menu features a tasty variety of international specials, as well as freshly made sushi from their Dragonfly sushi station. Chef Michelle and her team go out of their way to make every night a culinary experience. The in-house wine connoisseur happily assists you in pairing the perfect wine with your dinner choice. At Que Pasa you will feel welcome and have a great time for sure. The friendly staff will serve you with a smile. And the food experience will keep you talking about it, even long after your visit.
Restaurant page views: 283,427