Que Pasa? - Restaurant - Bar & Art Gallery
Cuisine(s):
Aruban
,
Belgian
,
Caribbean
,
Dutch
,
International
,
Italian
,
Japanese
,
Mexican
,
Seafood
Main Course:
$18.00 - $26.50
is:
Casual Dining
Indoor Dining
Accepts:

Meals:
Dinner, Take Out
Serves:
Vegetarian
Kidsmenu
Ratings & more:
Excellent!
Free WiFi
Que Pasa? - Restaurant - Bar & Art Gallery
Wilhelminastraat 18
Aruba
Tel:
+297 583 4888
Opening Hours:
Every day from 4pm till late

Dinner:5-11.00 pm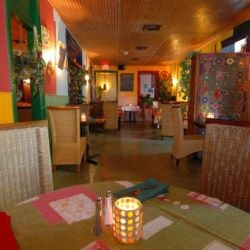 Let us tell you a little bit about the history of Que Pasa. In 1992 a few young guys started the restaurant after a great night out in town. In an old "cunucu-style" house Que Pasa began growing from a small bar-bistro to a mature restaurant. We have been trying to improve the quality ever since and keep the atmosphere like it was in the beginning. We'll hope to see you soon, and have a marvelous time.
Restaurant page views: 263,526