Quinta del Carmen
Cuisine(s):
International
Main Course:
$28.00 - $45.00
Meals:
Dinner
Serves:

Ratings & more:
Excellent!
Free WiFi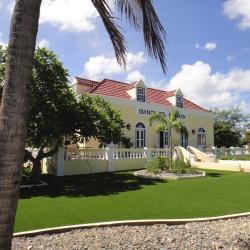 Monumental Courtyard Dining
"
New find 3/2016

"

Mar 17, 2016 - posted by

Gale & Paul
Absolutely the most civilized experience in our 7 years of visiting Aruba. The atmosphere is romantic, the service superb, the food delicious.
In fact, it was so wonderful, that we went twice in one week. Our last dinner in Aruba this year. Can't wait for 2017.
"
New favorite!

"

Feb 28, 2016 - posted by

Liza C.
Tyra, our server, was beyond terrific.....starting with the wine (for which the list was excellent and I couldn't decide)...she had an outstanding knowledge of them and was so helpful in our choice. The carpaccio may have been one of the best I have ever had, and in my 50 years I can tell you I've had it all over the world. I also couldn't decide on an entree...Tyra recommended the Mahi Mahi and may I tell you, she wasn't kidding. MAGNIFICENT! My mom had a bacon wrapped chicken with Boursin and spinach that you could crawl over glass for...
DO NOT FILL UP AND SKIP DESSERT!!!!!! The coffees were wonderful and we got 2 desserts, both of which were fantastic. Mine was a Nutella thing that I'd be happy to live on forever. We've been coming to Aruba for about 16 years now...this place just opened last year and is absolutely now a must in our yearly restaurant rotation.
"
Carribean Gem!!

"

Jan 12, 2016 - posted by

Tom and Susan Bitler
My wife and I in a party of six from Divi Village eat here Sat.and we could not stop talking about Quinta and that it may be our new island favorite! Please don't forget to try their deserts WOW!!!
"
Flavor Of Food Explodes In Your Mouth

"

Dec 27, 2015 - posted by

Frank Speaks
While Quinta Del Carmen was recommended by the Marriott of the new restaurant to visit for return visitors to Aruba, what a great treat.
As I listened to other tables brag about how tasty their food was, I could nothing but agree with them as we finished up our meal. They take great effort in using a variety of spices to cause the food to explode with flavor (not spicy but flavor) in your mouth.
Since it is less than one year old, the owner is always there to make sure of quality control and your enjoyment (hoping that you will spread the word at your hotel).
Please don't miss this treat in Aruba.
"
Excellent Cuisine

"

Jul 8, 2015 - posted by

Dianne C.
My husband and I dined here on our last evening and what a fantastic way to do it. I started with the pumpkin soup and it was supreme! I then had the sea bass and my husband had the piña colada shrimp. Let's just say there wasn't much conversation going on as we both were too busy enjoying our entrees. This wasn't my first time dining there and it will not be my last. I cannot wait to my return to try something else that will be equally as appetizing. This a must place to dine!
"
Very good!

"

May 20, 2015 - posted by

Jack and Lori
As a fan of Barefoot we wanted to try their new restaurant. We were not disappointed. They have made the choices different from Barefoot but continue with the same high quality. We highly recommend it.
"
Superb gourmet adventure

"

Apr 26, 2015 - posted by

Robert
In this beautiful environment everything just seems to fit. Hospitality at its best and delicious food. We really enjoyed the garden with its nice breeze. The owners managed to create something really special and didn't copy their other success restaurant Barefoot. We enjoyed every dish but the skirt steak was a perfect 10!
"
Bad Experience

"

Apr 4, 2015 - posted by

Pedro
Horrible Food, Nice Waiter , Careless Servive. I had to selfservice thhe wine .
"
new neighbor

"

Mar 15, 2015 - posted by

Berend
Last year we were surprised to sea the building opposite our house being renovated. Soon we found out that it was going to be changed into a restaurant. Although there was no advertising it opened "secretly" just before christmas. Now, march 2015, we have been there some 5 times with the family, or with friends during there Aruban vacation. Overtime we were surprised by the atmosphere and the friendly staff.
The setting is great and just the way we like it.
The food is very good, the menu has entrees for every taste. We have been trying different starters and entrees and all of them were good!
So we are happy with Quinta del Carmen next door and we will certainly visit them frequently!
"
Dont Miss it!

"

Mar 3, 2015 - posted by

JC4Ever
After hearing the owners of Barefoot restaurant opened a new place we had to give it a try,and it was well worth it.
To start out Quinta del Carmen is in an absolutely beautiful setting. The home has been refurbished and it's absolutely beautiful with great outdoor courtyard seating in the rear. It has only been open two months at this point and had a very nice crowd.
The staff was fantastic, very helpful and attentive, even with our group of eight.
And in terms of the food there was not one complaint amongst us. Starting with appetizers, grandma's chicken soup and the pumpkin soup were both delicious. In addition the watermelon tomato and feta salad was huge and properly dressed, as was the goat cheese and potato salad. In terms of entrées the Sea Bass, grandma's special steak marinated 24 hours in wine, and the pork with brie cheese were all hits. Half of our entrées had been brought to the table when we heard a big crash in the kitchen. Apparently the remainder of our dishes had fallen by accident. The staff came out in an effort to take what has already been placed on the table away so all the food could be served hot and at the same time. This was a very appropriate response and nice gesture but we kept what had already come out and the rest was delivered within 10 minutes.
Overall a very good meal and we will definitely be back next year!
Restaurant page views: 16,385