Savanna Lodge
Cuisine(s):
International
Main Course:

is:
Casual Dining
Outdoor Dining
Accepts:

Savanna Lodge
Matividiri 57
Aruba
Tel:
(297) 585-9630
Opening Hours:
Daily 9:00 a.m. until 4:00 p.m.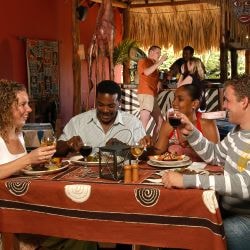 Savanna Lodge Bar & Restaurant brings you, your family, and friends a little taste of Africa. Decorated with unique African figurines and tapestries from South Africa, our restaurant and bar sit beneath a large, shady gondola, open on three sides to the cooling Aruban breezes and rugged countryside.

Allow us to tantalize your taste buds with our unique cuisine. We are confident that we have something to appease everyone's palate.
Showing reviews 1 - 4 of 4
Showing reviews 1 - 4 of 4
Restaurant page views: 19,505