Sushi-Ya & NextDoor
is:
Casual Dining
Outdoor Dining
Indoor Dining
Accepts:

Meals:
Dinner, Lunch
Serves:

Sushi-Ya & NextDoor
L.G. Smith Blvd. 9
Aruba
Tel:
+(297) - 583 9982
Opening Hours:
Lunch: Monday - Saturday 12noon - 3pm
Dinner: Monday - Thursday 5.30pm - 11pm
Friday & Saturday 5.30pm to 12am

Playa Linda Resort:
Dinner: Daily 5.30pm - 11pm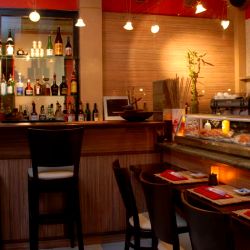 Located at Renaissance Marketplace.
At Sushi-Ya, we temp your palate with the perfect food: delicate, delicious sushi. Our wide selections of sushi, from the traditional California roll to the most exotic creations, are made from the freshest ingredients. If raw fish is not your taste, several varieties feature cured seafood and traditional Japanese cuisine.

Sushi-Ya has 2 locations, each with their own atmosphere and menu, featuring a wide variety of exotic Japanese dishes, rolls, fresh sashimi and our menu also offer you a selection of dishes without fish or seafood..."
Restaurant page views: 70,247