The Restaurant at Tierra del Sol
Cuisine(s):
Caribbean
,
International
Main Course:
$10.00 - $25.00
is:
Fine Dining
Romantic Dining
Outdoor Dining
Indoor Dining
Accepts:

Meals:
Dinner, Lunch
Serves:
Vegetarian
Ratings & more:
Good!
Free WiFi
The Restaurant at Tierra del Sol
Tierra del Sol
Caya di Solo10
Aruba
Tel:
(+297) 586 7800
Opening Hours:
Daily 11:00 AM – 9:00 PM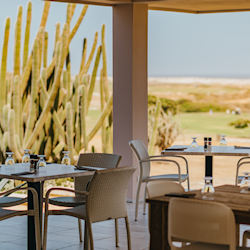 The Restaurant at Tierra del Sol is open with a limited menu. Drinks and food are being served with indoor and outdoor seating in accordance with social distancing protocols.

Relax for a casual lunch on our outdoor terrace while taking in the most spectacular views of the Caribbean Sea. Enjoy dinner on our outdoor terrace offering great poolside and north coast views.

Whether out with friends, family, or business colleagues, the Restaurant at Tierra del Sol combines great foods, friendly service, and the most inviting atmosphere on the island.
Restaurant page views: 99,365