Yemanja Woodfired Grill
Cuisine(s):
Caribbean
,
Steakhouse
Main Course:
$28.00 - $40.00
is:
Fine Dining
Outdoor Dining
Indoor Dining
Accepts:

Meals:
Dinner
Serves:
Vegetarian
Ratings & more:
Excellent!
Free WiFi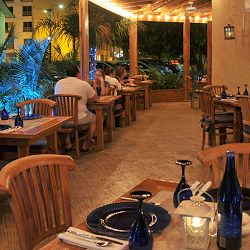 Aruba-s only wood-fired grill restaurant! Beautifully situated in downtown Oranjestad, behind the Renaissance Hotel. Yemanja is relaxing and welcoming, with a passion for tradition and excellence. Seating is either inside (air-conditioned) or outside on a cozy terrace. Serving innovative Caribbean cuisine. Locally-caught fish, shrimp, prime cuts of beef, lamb, pork, duck and poultry are all prepared over a wood fire using mesquite and hickory. Also our appetizers & salads are a real treat! The result is succulent, tender and flavorful dishes that only wood-fire grilling can produce.
We hope we may welcome you soon here in Yemanja.
"
Great food

"

May 19, 2018 - posted by

Sharon
What a wonderful evening at Yemanja Woodfired Grill. Our waitress Ali was very attentive, the food was beautiful to the eyes, nose and taste buds. The unique combinations of flavors used shows the great passion and dedication to details that Owner/ Exec Chef Joyce de Cuba-Husken puts into the dining experience. The best food I had during my stay in Aruba this time and in past times. Loved it!!!!
"
Our last visit 11/2015

"

Aug 17, 2016 - posted by

Robin Sullivan
Everything was just perfect. We had a wonderful meal under the stars.
"
Great Food, Terrible Service

"

Apr 1, 2016 - posted by

Kim & Greg
My wife & I made a reservation for outside seating @ 6:30 and arrived by 6:15. Upon our arrival the hostess tried to seat us at an inside table. We explained that we requested an outside table. Keep in mind we were the only 2 there at the time. The hostess handed us off to one of the servers and she attempted to seat us in a doorway. We requested a table for two in a more desirable location. Major attitude by the server @ this point. We witnessed the same poor attitude towards other patrons throughout our meal. We typically visit Yemanja 2-3 times during our stay, but we didn't return due to the poor attitude of the staff. The meal was outstanding and we will try Yemanja again next year. Hopefully the service drastically improves or it will be our last visit.
"
Fabulous, time after time

"

Nov 8, 2015 - posted by

Karen Santoro
I can't figure out why this restaurant isn't a consistent top 10! Baffled. We visit Aruba twice a year and this is one of our top four favorites on the entire island after years and years of delicious meals. This chef operates this grill with such precision and the food is soooooo spectacular, it is an amazing thing that more visitors to Aruba don't have this dining experience. Well worth the cab ride if you are in the high rise, and an easy restaurant to access if your in low rise, don't be intimidated that it is in town, this is a restaurant well worth the visit. Our daughter is your biggest fan, won her over with the Lobster Cappuccino. We look forward to visiting each and every time we are in Aruba! See you soon! Restaurant was only given an 8 for children and wheelchair access, because we haven't had to use that feature at Yemanja!
"
Shame on The Owner Chef

"

Dec 5, 2014 - posted by

Gerlyn
Dined at Yamanja this evening.
In the past 6 years never had a bad meal.
This evening my wife ordered the grouper Italiano
It was very good.
I ordered the Salmon it was terrible.
Thie salmon was either not fresh or more than likely mishandeled.(refrigeration)
I did not eat it and told the waitress it was really bad.
I sent it back and out came a message from the Chef Owner I was wrong.
I was highly insulted and will never refer or return.
I did not ask for her opinion or ask for the Salmon to be taken off the bill.
She was totally off base and reacted unprofessionally..

"
Great meal

"

Jul 1, 2014 - posted by

Matt
Tried for the first time Yemanja. Had awesome meals and great service. Decided to select the wines that were paired witht the dishes (Halibut and Chilean Sea Bass). Whole experience was one of the best on the island this trip. Seems they may be planning to move or expand as we were asked whether we'd continue to come to the restaurant if they moved. Sure would.
"
This is what I'm taking about!

"

Apr 5, 2014 - posted by

Paul
What an awesome meal! Probably our best dinner this week. Excellent table service. Great portions. Reasonably priced. I wish we discovered this place earlier in our trip. 12oz steak with more sides than u could possibly eat. $39. The fillo with goat cheese was sweet and very delicious. Most entrées in the high $20 to mid $30 range. $15 cork fee if you byob.

It's a small restaurant with only about 15 tables. Right behind the renaissance downtown. Very cosy and tastefully decorated.

If you're looking for a quiet dinner for 2-4, I highly recommend. Enjoy!!
"
Wonderful!

"

Apr 6, 2013 - posted by

Mark
Our food was outstanding, as it has been every year we have gone. Our server was extremely nice and attentive. They have numerous wonderful selections on the menu, and they never fail to please.
"
DECLINING

"

Mar 18, 2013 - posted by

FOOD CRITIC
We have eaten at YEMANJA ever since it opened and generally have enjoyed it. Over the past few years we have noticed a decline in their service and products and, this year, the decline was so pronounced that we will no longer be dining here. There was a total lack of attention to any of the details that make a restaurant good. We are told that the founder of this place has branched into other enterprises and appears to have ignored this place to its detriment. So let's describe the fiasco that was our dinner. It started off nicely with the traditional greeting and welcome back and seating. Upon seating we noted that the place had not been kept as clean as it had traditionally been done but it was not offensively unclean either. Our waitress came by and explained the specials of the day and, after some thought we placed our orders.

We both traditionally do their puff pastry appetizers - the shrimp one and the cheese one - and that is what we ordered. For Entrees we ordered their cheese encrusted fish and a special of the night which was in the nature of a fish chowder. Bread was served and eventually our appetizers showed up. We should have known at that time that the night was not going to be a good one because they were each burned - any chef of any repute would have redone them properly, but that did not happen, so we moved on. Our entrees them came out and the fish dish was presented first and then a plain scalloped shrimp dish was presented. We indicated that the shrimp dish was not what was ordered. At that point they lost it - we were asked if we preferred the shrimp dish and we indicated to them NO, that is not what was ordered. The offer was made to prepare the proper alternative entree - THEN, the other party who was to eat the fish dish was asked if it was to be redone or whether it was desired to be eaten while waiting for the other Entree! DUH - what do you think the answer was to that - it had to be redone - we came there to dine together not to watch each other eat. Because the fish dish involved some cheese we thought that it would have to be totally redone because heating would further melt and curdle or burn the cheese. So both entrees were taken back and then our side dishes showed up in their traditional little community style serving bowls (which we have never liked) and we indicated that they had to be taken back while we awaited our entrees and they were. Time passed and eventually the proper entrees were brought to the table - the chowder was hot, steamy, and quite tasty and vastly different than a plate of shrimp and was well worth waiting for. Unfortunately the cheese encrusted (I am simplifying its description) fish had been put under a heating lamp and, as suspected, it curdled and burned - again, no chef of any ability level would or should have done this to this dish, but they did. AND, if that was not bad enough, the side dishes were returned to our table and they had been under a heating lamp as well - in the course of that, the mashed potatoes had dried out and had become pasty, the black beans had been overcooked and had burned and had become tasteless, the grilled vegetables had wilted and had become burned and tasteless as well, surprisingly, the rice managed to survive this onslaught of incompetence and, though dry, had some texture and taste left to it. NEEDLESS to say we were not happy with the experience and have written this place off for any future visits. We would encourage the founder to put some time and effort into fixing this place up and returning it to its former ways - without which, we can no longer recommend this place to anyone - the incompetence we experienced was, in our opinion, the culmination of an ongoing decline at this place and a lack of proper supervision or management and we feel that this place no longer merits our or your patronage. Mind you that it is not just that they got our orders wrong, it is what they did after they were told about it and the fact that they burned out appetizers as well. Hopefully they will bounce back - but we have concerns that they will not especially while the founder is off not paying proper attention to the place. What a waste of an otherwise good eating establishment.



"
Good food, horrible service!!!!

"

Mar 5, 2013 - posted by

JC4Ever
Had heard good things about this place from relatives so we decided to give it a try. Went with a group of 8. The first major issue was that we had an 8:00pm reservation. 2 members of our group were there early, and let the staff know they were there. The rest of us were there at 8:00pm. Apparently a group walked in at 7:50pm and they gave our table away to this group. So, reservations do not matter, and they just dont care. If we did not have such a large group, we would have walked out. We waited approx. a half hour for another table and finally got seated.
It then took over 45 minutes for a server to even apporach us to take our order. After a long wait for appetizers, we finally got our entree around 10:30, which is ridiculous since we had an 8:00pm reservation.
Most of the food was good. There is no presentation. Just meat or fish on a plate, and the sides: rice, veggies, garlic mashed potatoes and black beans, are all served family style.
The major food issue was the fact that 2 people ordered the ribeye steak. Both were brought out. One was a large ribeye and one was a very small strip steak. When questioning the server about the strip steak, she brought it back into the kitchen, came out and said "they said that's the ribeye." It was obvious it was not the ribeye, especially when there was another one on the table, and anyone with common sense would know the difference.
After fighting with this girl for several minutes, the manager was called over. Not knowing what was going on, we asked her about the steak, and she responded "that's a strip steak". They finally changed it but at that point it was after 10:30 and the dinner was ruined due to the horrible service.
Sorry to say....the food wasnt that good for a return trip, we wont be back!
Restaurant page views: 205,164